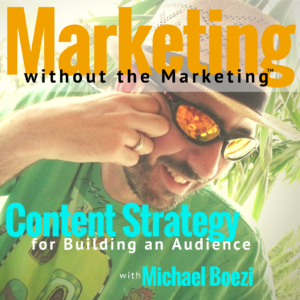 If you're a small business, content marketing really is your only choice. Traditional advertising isn't going to do you much good. First of all, it's too expensive. Second of all, who's listening anyway?
We as a culture are really good at tuning out marketing. When was the last time you bought something because of an ad? Maybe it contributed to your awareness of the product. Great. For gigantic corporations who can afford big budget commercials to make sure that you are aware of their product, maybe that's worth it.
But for you and me? It's not a good strategy if you're running small business. Good thing that the rules have changed then. And what's cool is that the rules have changed in our favor. We now have equal access to a customer—the same ability to reach an individual customer as that gigantic corporation. Sure, they can spend more money on the transaction, but the fact is that there is equity of access now.
So what will you do with the gift of equal access? That's where content strategy comes in. Harness the power of creating valuable content to start building an audience. Earn their trust, little by little, with a genuine desire to help. Soon they will be actually helping you in you marketing efforts by creating new customers for you—and they will be better at it than you or I could ever be.
In the third episode of "Marketing without the Marketing," I talk about how to cut the marketing speak and get better results using a content strategy instead.