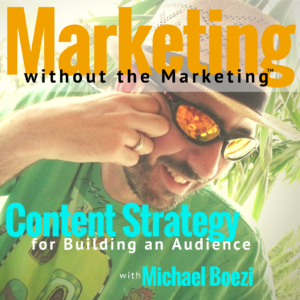 I'm excited to kick off two new projects this year. Both of them involve teaching, though I expect to learn just as much as I teach. I'm creating two different courses to formalize some of the work that I've done with clients over the past two years.
There are so many nuances to learn about content strategy. Because each audience is unique, it differs in every case—and changes week to week. As a practitioner, I learn about this every day in my on-the-ground experiences.
These two courses are a way for me to teach these nuances, in-depth, so that we can really get into what works, what doesn't, and how to find out for yourself. Here's a little more about the two projects, but you can also listen to the episode below for behind-the-scenes on what I'm doing and why.
Fundamentals of Content Strategy
I'll be Affiliated Faculty at Emerson College this term, teaching a course that I created, called "Fundamentals of Content Strategy." It's a project-based, grad-level course all about using content strategy to build an audience.
Here's the description from the course catalog:
Topics in Writing and Publishing: Fundamentals of Content Strategy (PB694 – 02)
Content strategy is about developing content as a business asset, using it to achieve specific business goals. This course is designed to help you plan and execute an effective content strategy to build an audience. It will be conducted as a dynamic live project, where you will work alone and in groups to get experience in all the facets of content strategy. You'll devise a strategy, set goals, create a project plan, and conduct basic research to test your assumptions. You will create, publish, and propagate regular content to meet the needs of the audience you define. You will learn how to organize and optimize your content for maximum impact, and how to set metrics, measure your results, and iterate.
I believe that students learn by doing, teaching, collaborating, and experimenting. Hence the "live project" format. As I mentioned in the episode, here's a little more about my teaching philosophy.
Content Strategy for Creatives
The second project is a course that was tentatively entitled, "Content Strategy for Creatives." The project officially launched in June 2017, and it's called CreateBiz.* It's focused on helping creatives of all types – writers, musicians, and visual artists – get their content together and use it to build an audience. This is not too different from what I teach in my consulting practice, but the idea it to structure and sequence it so that you can go at your own pace on your own creative work.
This project is a partnership with Dave Kusek, who has a lot of experience creating online courses. Dave has been very successful with his New Artist Model for musicians – it's an amazingly rich set of content to help with all aspects of of running your own business as a independent musician, performer, recording artist, producer, manager, or songwriter.
I'm looking forward to a fantastic 2016 with tons of new challenges to tackle. I hope that you are just as excited about what you're doing.
If you want to stay in touch about the course, please subscribe to this site.
by Michael Boezi. .
*NOTE: I mentioned in the episode that the title was only tentative, but the brief survey is now closed. Thank you if you participated!