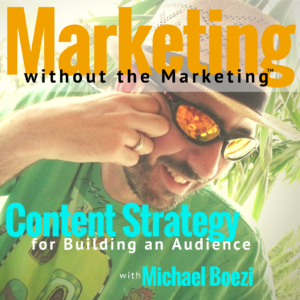 Optimization is especially important to small business owners. Time is a scarce resource, so anything you can do to be more efficient can make a huge impact on your business. This is why I invited Todd Meisler, CEO of ZD Design Agency, to talk about marketing optimization. What I like about Todd is that he views optimization from many different facets. Optimization is not only about SEO. It's about creating systems that allow you to optimize each aspect of your business.
I was really excited to conduct my first interview on this show, and we had a great conversation that covered a wide range of topics:
An overview of optimization in general.
SEO in particular—and why it's important.
The hazards of SEO—why you need to do it right.
Applying optimization to The 3 Pillars of Online Branding:

Optimizing your website.
Optimizing your blog.
Optimizing your social channels.

Paid ads in social channels.
Analytics & measurement.
Todd's Viral Marketing Cycle.
What you can do start applying it to your own business right now!
---
Show Notes:
For more about The 3 Pillars of Online Branding: http://bit.ly/mwm-004. Also, I referenced this link in the episode, in relation to creating content that answers your most common customer questions: http://bit.ly/mwm-010.
If you are listening on iTunes and wish to leave a comment or question for Todd or me, please do so on the show page: http://bit.ly/mwm-011.
—
More about Todd:
Todd Meisler is an online strategist, business coach and internet marketing optimization expert, helping small businesses with Internet marketing, website development, SEO, and Social Media Marketing. As CEO of ZD Design, he works with business owners to maintain and improve their online marketing, website visibility, website UX and presence, and brand reputation.
Todd's eclectic background in online marketing, technology, online strategies, design, coaching, consulting, speaking, web development, publishing, and art direction and music has made him an authority in the convergence of technology and creativity.
Todd is offering a free 30 minute consultation call to listeners of this show. Schedule time with Todd here, and mention this podcast in your note: http://bit.ly/mwm-todd.
Or to connect with Todd and learn more about his services:
Web / Twitter / LinkedIn / Facebook.