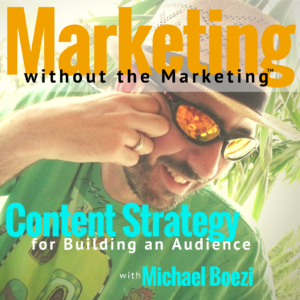 What's the ROI of content marketing? I get this question a lot and it's always a red flag to me. Measuring a new method against an old metric isn't going to do you much good.
Traditional marketing is about awareness, and awareness is fairly easy to measure and to calculate.
But content marketing is about much more than just awareness. It's about building a relationship.
Awareness is important, of course. I need to know about your product or service if I have any hope of purchasing it. But how do you measure a relationship? How do you measure trust?
In building an audience, there are only two ways to build up trust. One is to consistently deliver value, whether that's in your product or things surrounding your product. This is what content marketing is all about. The other way is to have someone else transfer trust to you. That's called advocacy, and it is also a key component of content marketing.
And here's the thing. Your message won't travel without trust.
Sure, you want to get a return on your investment. If it's not growing your business, what's the point of it? But if content marketing is going to work for you, don't start with the ROI question. Start with the genuine intent of providing value to your audience instead. And do that over and over again until you have meaningful relationships with your customers.
Show Notes:
For more supporting evidence on content marketing: