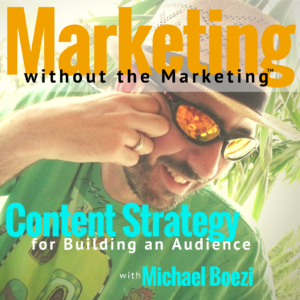 One of the goals of this podcast is to show you how to promote your business without coming off as self-promotional. It's not just because self-promotion feels "icky." It's also because it's not that effective, compared to other methods.
When it comes down to it, no amount of self-promotion will equal the power of honest, peer-to-peer, networked growth. Today, this is actually possible. First, you have to create good content that connects. Something compelling enough that people will want to share it. Then, like I said in the last episode, you have to do it consistently in order to build your authority.
The whole idea is to cultivate a deep connection with a core group. As you iterate, this core group will grow. Your audience will actually start to create more audience for you. In other words, you don't need to worry about promoting your content. Others will do that for you.
You're not the best marketer for your business anyway. Your customers are. Inspire them. Empower them. Give them the tools they need and then get out of the way. When your audience creates more audience for you, you'll start to see your growth accelerate.