Part 8: SEO for Small Business
SEO is not just about site traffic or getting onto Page 1 of Google – though both of those things are important. It's about building a relationship, so that means you have to think about more than that first visit to your site. In order to build trust over time, it helps to build a user pathway.
For SEO to be truly worthwhile, we want to look at the 4 Ps of the customer's journey – and have them ready in advance:
Pre-visit
Present
Pathway
Purchase
Episode 140 gets into the nuances of the user pathway and how to set it up properly. Listen to it here or in Apple Podcasts (or in your favorite pod player).
Show Notes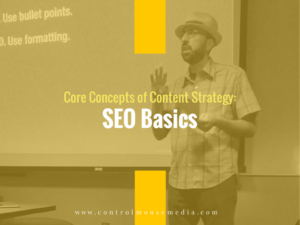 A part of my Core Concepts of Content Strategy series, I am developing an online course on the nuances of SEO. It's based on the work that I do with clients each week. The course is structured for the layperson, and it includes:
Video walk-throughs, templates, and checklists.
Key highlights of Google's 200 ranking factors.
How to use Google Analytics.
Find an overview here: https://controlmousemedia.com/seo-basics
Sign up here to be notified when the course is launched.
---
If you are new to this podcast, I publish a new episode most Mondays. Subscribe here and select your preferences. It's your inbox, so you get to choose what you want and how often you get it!
I offer free help on content strategy in my podcast and blog. If you are able, fuel my efforts with a cup of coffee!
You can also support this podcast via Patreon.
I also offer inexpensive help in my online courses, and do private one-on-one training as well.
Published  by Michael Boezi