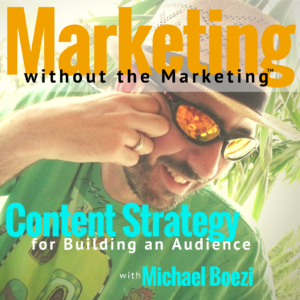 Getting found is difficult in today's world. By producing something that you think will be of use to someone, you've taken the first step. You have a voice, you're at the podium. You're off to a good start.
So why aren't people listening to you? Why aren't they paying attention? The problem is that, for better or worse, everyone's at the podium. So how do you rise above the noise? How do you position yourself properly to earn the right to be heard?
Good content is everything to a content strategy, but it's not the only thing. Even the best content will get lost if you don't give it a better chance of being found. There are two factors that are really important here:
Searchability: Can people find your content when they want it?
Discoverability: Are people likely to find your content, even if they aren't looking for it?
This is the basis of search engine optimization (SEO), things that help Google and other search engines understand your content and what it's for. In this episode, I get into using keywords and tags properly, employing images, and the importance of being feed-friendly. If done right, they can help your posts get found.
These are tactics, not tricks. You can't "game" Google as a long-term strategy. Unique, well-written content is the still only strategy that works. You're not writing for Google—you're writing to be useful to your audience. As I always say, write for people, not for robots.
Cheap, me-too content doesn't bring value to anyone. Google knows that. Produce content of that type, Google's not going to put you on Page 1 of search. Same goes for oily click-bait titles. What happens when someone clicks? If you don't come through on the promise of your title, people will leave quickly. And guess what? Google will notice.
Whenever you publish new content, the default position is, "who cares?" What are you going to do to answer that?