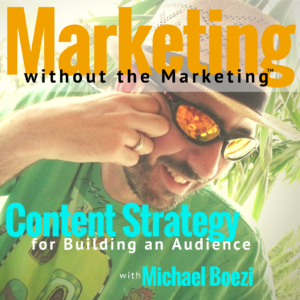 In any content strategy, the delivery is almost as important as the content itself. Either it's supporting your core message or it's working against you. That's why channel selection is so important.
There's no one right answer—you have to find out for yourself. So, continuing the discussion from the last episode about making real connections, let's talk about how to determine which social channel might be best for you.
Where does your audience want to hear from you? If you choose the wrong channel, your message may be invisible. Or worse, it may hit the wrong note.
There are two key strategies:
Go wide to narrow. When working with clients, I try to foster a spirit of experimentation. Start with a "land grab" of your brand in each of the major social media channels. Try each, in earnest, then seek to eliminate the ones that aren't working.
Go where your audience is. Hand this decision over to your audience. If they're on Twitter, then get good at Twitter. Simple as that. Building an audience is difficult, but moving an audience to another platform is even harder. Just go with it.
In this week's episode, I get into some of the criteria you might consider—and I give an overview of some of the main social channels. I cover the Big Four: Twitter, Facebook, LinkedIn, Google+, and some of the other major platforms.
The important thing is to have a strategy based on what you want to achieve. Focus on the one or two channels that will yield the best results for you. Making it manageable is a key part of your content strategy for social media. You can't have this take over your life—you just need it to deliver meaningful results for you and your business.
Let's hear your stories! What has worked for you? What hasn't? What have you learned?
Show Notes:
Each social media platform is unique and the amount of reach it has on potential customers differs. Here's a helpful infographic from iDigic. You can link to the complete article here: Social Media 101 for Business.
Incidentally, iDigic also has some helpful resources on Instagram for business: