The New Functions of You
Whether you intend to self-publish or get picked by a traditional publisher, the path is the same. No agent or publisher is going to look at you if you don't come to them with proof that you are a good writer with a strong following.
How do you achieve this? Recognize that your role has changed. In the New World, you are no longer just a writer. You are a publisher, and you are an entrepreneur. Embrace those roles.
Think like a publisher.  It all starts with good content. You won't get anywhere without content that connects with your audience. There's a process to creating good content, one that I've learned by producing hundreds of projects over my long career in publishing. I can give you my knowledge, and help you think like a publisher.
Think like an entrepreneur. You are running your own business. An author is a start-up, and a book is the product. You need a business plan, a strategy, and a framework. Successful businesses develop the product before producing it. You need to iterate, gather feedback, and build your customer base while you are producing it. I can help you think through all these issues.
How can I help authors?
Every author is different, and every audience is different. If you are ready for specific strategic help, I'm here for you.
Goal Setting – What do you hope to achieve?
Investment Strategy – Don't go into this without a financial plan.
Project Planning – Based on your goals, let's set milestones and, yes, some deadlines.
Audience Development – This starts very early in the New World; you can't put this off.
Content Strategy – This is your book plus supporting content. Let's make it work together in concert.
Brand Development – You are your brand, let's make it consistent and appealing to your audience.
Funding Strategy – This should be a part of your marketing strategy; it may include crowdfunding.
Product Development – Tone, tempo, language—are you in tune with your intended audience?
Asset Curation – Advise on copyright allowances/issues, including images/figures.
Product Validation – Let's make sure you are delivering a product that will connect.
Product Presentation – A professional product is table stakes. Let's get it right.
Partner Evaluation – You are going to seek some outside help. How do you know if they are good?
Contracts – Evaluating and negotiating. Don't take a bad deal because you are not informed.
Production – The part of the publishing process that requires the most witchcraft.
Delivery – What's the best platform for your content? Which ones should you avoid?
Marketing Strategy – How to promote without coming off as "self-promotional."
Web/Social presence – Direct, demystifying help at any level, including account modeling.
Return on Investment – Setting realistic goals and measuring yourself against those goals.
Let's get going.
You're going to have 1,000 decisions to make. Don't try to do this alone.
I will engage at any level. My rates are lowest for independent authors, and the first orienting session is always free. Let's find out if I'm a good match for you—I will not work with you if I don't think I can help you.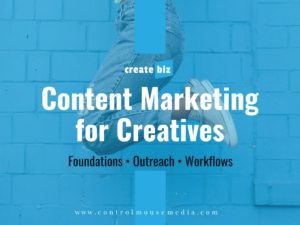 If you're not ready to hire specific help, I have another option for you: A complete online course to help authors, musicians, and visual artists build a business around their creative work, focused on the most difficult part – marketing. The course is called Content Marketing for Creatives, and it contains 42 video modules, along with dozens of worksheets, templates, and strategic assignments to help you get focused and efficient in building your online audience.
Here's more about me and what I do: ABOUT // And what it's like to work with me: TESTIMONIALS
For more about my professional background, here's my résumé: http://mboezi.com/cv.
Or book a single session (or a set of strategy sessions) here and we'll get started right away!
One-on-one training
Web strategy and SEO
Business blogging
Podcasting
Creating online courses
Strategic advising
Hands-on production
Writing & editing
Scripting (audio and video)
Audio & video production
Build online courses
Create custom audio
Group training
Teaching (college course)
Live workshops
Presentations & webinars
Moderating live broadcasts & webinars (video & audio)
---
Get to Know Me & My Approach
Writing a Book: A Beginner's Guide (6-part series)
Podcasting: A Strategy for Writers (5-part series)
Content Marketing 201: Beyond the Basics (20-part series)
SEO Basics: Core Concepts of Content Strategy (8-part series)
Content Strategy *Is* Teaching (2-part series)
The Social Media Strategy Series (16-part series)
Repurposing Content: Core Concepts of Content Strategy (6-part series)
Syndicating Content: Core Concepts of Content Strategy (2-part series)
---
Contact Me Directly: