Google, Facebook, Apple, Amazon. Their scale is massive. Today, they control anything and everything we do on the Web. I don't think that I felt the full impact of this until a few months ago, when I listened to Dr. Scott Galloway's presentation at the DLD conference in January. The sheer scale of these four companies, he explains, is so big that there is no credible historical comparison.
There are a lot of reasons that this is terrifying, but that's not what I'm going to focus on right now. My interest lies in the effect on content producers. If you think of content strategy the way I do, everything that you produce is a business asset – intellectual property that has a value to the business. Ownership of this content means that it's up to you how it can be deployed, used, and reused. It's up to you if and how to monetize it, how to license it, and the terms by which you do so. If your content strategy is done right, it's a "durable" asset.
Content is the way you connect with your customers and prospective customers. And these four entities – Google, Facebook, Apple, Amazon – are going to have a significant impact on how you make those connections. Sure, there are others players too – I've been going one by one through each of the major social platforms in my podcast. But they pale in the shadow of these four.
Produce a blog? Great – are you up on Google's rules so that you get found?
Produce a podcast? It's all about iTunes, period. Over 95% of my downloads come from iTunes.
Produce a book? Go ahead and try to sell it without Amazon.
How about music, movies, TV shows – or any other form of content, for that matter? Amazon, Apple, and Google are all going to affect how you distribute, connect, and sell these products.
What about advertising? As Dr. Galloway declares, "the advertising industrial complex is about to come to an end." Facebook has democratized advertising. Now even small businesses like mine can use them. That wasn't at all possible 10 years ago – now small businesses of all types can boost posts and run low-risk Facebook ad campaigns.
If you've been following my blog and podcast, you know that I'm a huge proponent of small businesses leveraging these new tools to "punch above their weight." But the backside to this is that there's a flood of New Content Creators crowding you out. Hey, some of this is my own fault – not only as a writer myself, but also in that I'm encouraging others to do it too! But my belief is that in this new ecosystem, the best stuff rises to the top. Why? Because the network says so. What people value, people share. And it's the only way that small players can see their message travel.
But if you're not up on how to "play nice" with Google, Facebook, Amazon, and Apple – you're invisible. Lost in the noise. As I say all the time, you don't need to be an expert on all this. But there are some simple rules and principles that help keep the ship steady. The only challenge is to stay up on all this, because the landscape changes all the time.
So how can you do this?
If you want to get a good overview of content marketing, I compiled these lessons into a convenient – and free – online course:
Content Strategy Basics: An Overview
Marketing is nothing without a content strategy behind it. This free online course introduces you to the principles and practices of content strategy – using content to find and connect with an audience, build trust, and ultimately, earn paying customers.
It's for small business owners of all types, including solo entrepreneurs, freelancers, writers, musicians, and other creatives.
The course content is open to the public – you do not need to register.
---
Complete List of Online Courses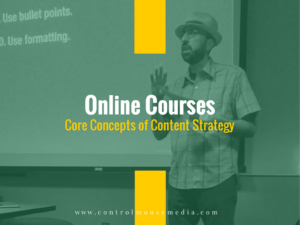 See the full list of current and future online courses, including SEO Basics, Social Media Strategy for Business, Repurposing Content, and Content Marketing for Writers.
Sign up to be notified of future courses!
---
Published  by Michael Boezi