HARDWARE
Microphones
Apogee MIC PLUS USB Microphone
Includes stand (need separate pop filter). I love this mic so much; it's comparable to other studio-quality mics I have.
Price: $$$ | https://amzn.to/2KyepQL* – the one I use
Rode NT-USB Versatile Studio-Quality USB Cardioid Condenser Microphone
Includes Tripod stand, pop shield and ring mount
Price: $$ | https://amzn.to/2Qo0r9y
Blue Yeti USB Microphone – Silver
Includes stand (need separate pop filter)
Price: $$ | https://amzn.to/2E0cvrX
Interface
Focusrite Scarlett 2i2 USB Audio Interface
This is ONLY if you are NOT using a USB mic like the ones above (i.e. yours has an XLR input). I use this unit every single day, it's simple and amazing.
Price: $$ | https://amzn.to/3XDwphz
Pop Filters
Samson PS01 Pop Filter for Microphones (12″ arm)
Price: $$$ | https://amzn.to/2TL0pr4 – the one I use
Samson PS04 Microphone Pop Filter (8″ arm)
Price: $$ | https://amzn.to/2r7JJwM
Earamble Microphone Pop Filter Dual Layered
Price: $ | https://amzn.to/2QjS6Ud
Baffling
Post Audio ARF-61 Vocal Booth with Isolated Shock Mounted Desk Stand
Price: $$ | https://amzn.to/2zrjKW2 – the one I use
AxcessAbles SF-2
Price: $ | https://amzn.to/3cICnHj
If you need to get the mic off the table a bit
Aokeo Studio Recording Microphone Isolation Shield
Price: $ | https://amzn.to/2EQpSNo
This one sits a little lower
Aokeo AO-605 Professional Microphone Isolation Shield
Price: $$ | https://amzn.to/34bJCnl
The step up from prior, a little bigger/nicer
Headphones
Grado Prestige Series SR125e Headphones
Price: $$$ | https://amzn.to/2DVjtyc – the one I use
Grado SR60e Headphones
Price: $$ | https://amzn.to/2r7LiuE
Audio-Technica ATH-M20x Studio Monitor Headphones
Price: $$ | https://amzn.to/2TKMuRW
Complete Kits
Blue Microphones Yeti USB Microphone with Tascam Studio Headphones and Knox Pop Filter
Price: $ | https://amzn.to/2FI9QEY
Mic Stands
On-Stage MS7701B Tripod Microphone Boom Stand
Price: $ | https://amzn.to/2QxHa5G
Hard Drives
G-Technology G-DRIVE USB-C External Drive 4TB
Price: $$ | https://amzn.to/2QT5hMv – I have 3 of these
SOFTWARE
Recording Software
Garageband
Price: Free (preloaded on Mac), and it works great for podcasting – the one I use
Reaper
Price: $60 | https://www.reaper.fm – I use this with the band for recording and mixing music
Anchor
Price: Free | https://anchor.fm – I've used this, my students too (for class projects)
Audacity
Price: Free | https://www.audacityteam.org – PC and Mac, open source
Audio Hosting
This is where the audio file "lives" so that podcast players/apps can access it.
Libsyn
Price: $5-40/mo | https://libsyn.com – most popular, most use this
Blubrry
Price: $12-80/mo | https://blubrry.com  – 2nd most popular
SimpleCast
Price: $15-85/mo | https://simplecast.com – I have a client who uses this, and it's great
Anchor
Price: Free | https://anchor.fm – I've used this, my students too (for class projects)
Web Hosting
WP Engine Hosting
Price: $23-35/mo | Use this link to get 20% off your first payment: wpe20off (affiliate link)
You get 3 months free with this link. That's about $90 off.
I think the coupon will be auto-applied, but if not – use wpe3free
Pick the Startup Plan, it's all you'll need for running one site
This package also includes the Genesis Framework and a set of StudioPress Themes for free.
Genesis makes WordPress run cleaner, faster, and more secure.
StudioPress is a set of themes that work well with Genesis. You'll pick one.
Genesis + StudioPress is what I'm running on both my sites. Some of the other offers don't include these in the package, which is what this one is a good deal. Plus the price cut – and paying annually, you can get this down to about $23/mo.
WP Engine has great support tutorials etc for getting you set you up, getting a WordPress "environment" live, getting it connected to the domain you own, and installing the SSL certificate (which is free).
---
Podcasting Basics (Online Course)
Learn podcasting in my online course, a part of my Core Concepts of Content Strategy series.
Or book a session (or block of sessions) to get one-on-one training to get you up and running.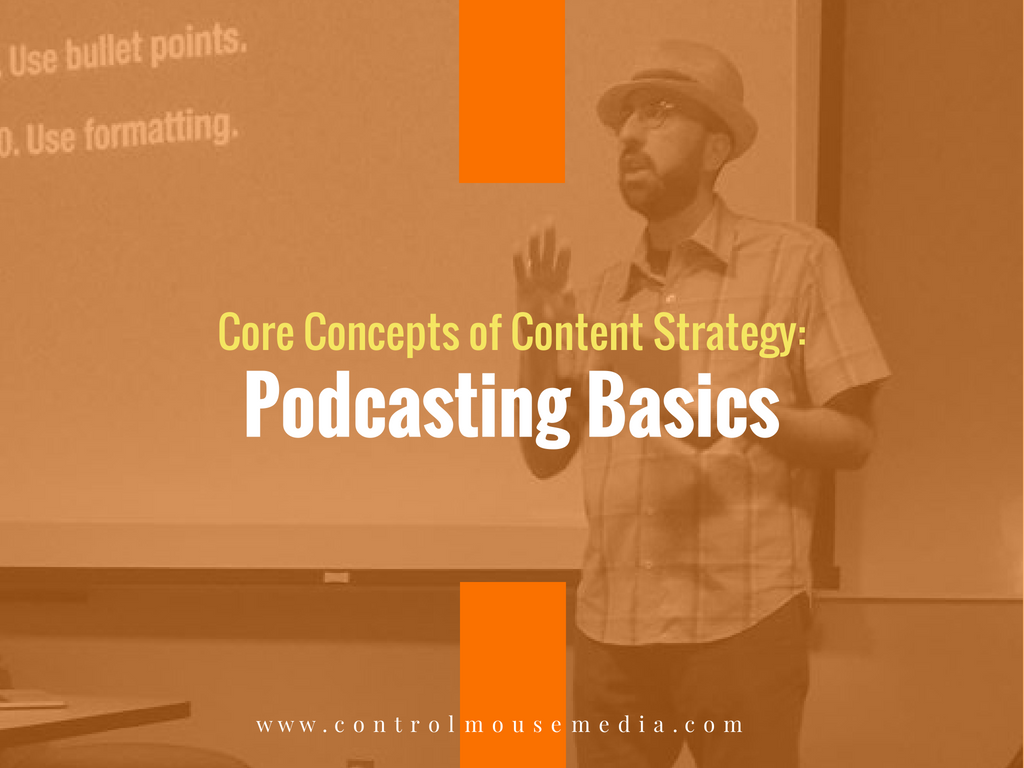 ---
*NOTE: All Amazon links on this page are affiliate links. What does this mean? As an Amazon Associate, I earn from qualifying purchases. Affiliate links throughout this site are always indicated, and I only recommend products that I genuinely endorse.