Start Building Your Audience
Online training for creative entrepreneurs
Developed by Berklee and Emerson instructors
Learn at your own pace, anytime
Quick start videos, templates and checklists
Create a promotional content engine
Find the market for your work
Get recognition for your creative talent
Connect with your audience via your art
Turn on multiple revenue streams
Attract industry attention
Maintain creative freedom
CreateBiz is a step-by-step system to help you leverage your creative work to build a following and get better results, faster.
Turn your art into a promotional engine that helps you build an audience, gain respect and recognition, make connections, and ultimately, make a living from your creative work.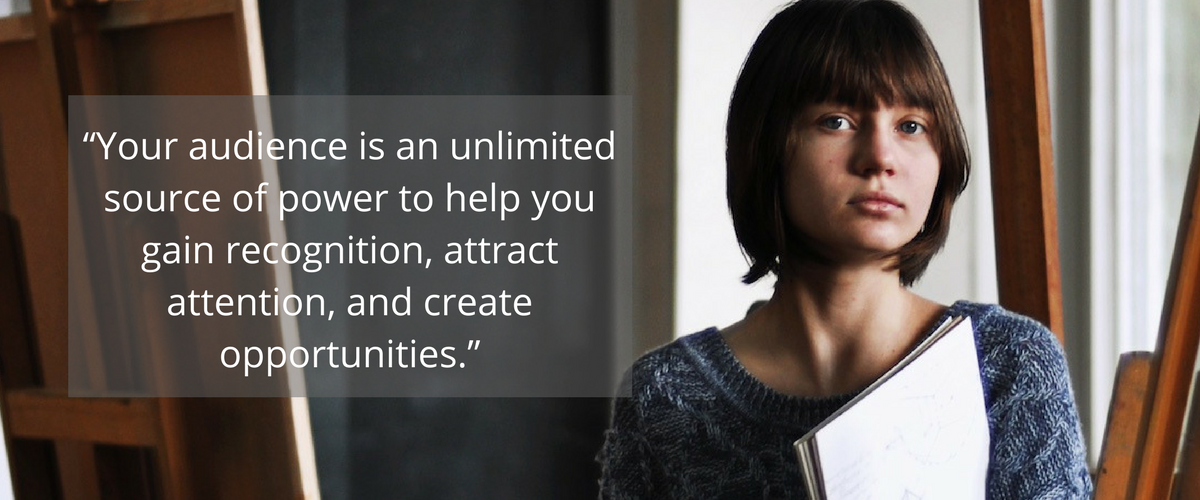 An Audience Changes Everything
CreateBiz is a step-by-step system to help you leverage all the efforts you put into your creative work to build a following and get more results faster. This online course will show you how to build and connect with an audience around your creative work. Turn your writing, music, or art into an unstoppable promotion engine. Get the respect and recognition you deserve, the industry partnerships you desire and the financial freedom and income you need.
Follow a step-by-step system to stand out and get people to notice you.
The self-paced online course will guide you through 6 units to get you started.
Make a positive impact and connect with people through your creative work.
Learn how to empower your fans to share and unlock exponential growth.
Connect with the right audience who will engage and support you financially.
Start putting reliable income streams into place so you can quit your day job.
Get more accomplished faster without working yourself to death.
Learn how to create balance in your work, life, and creative passion.
Turn content you already have into social posts that your fans will love.
Learn how to sell your work without "selling out" or feeling too pushy.
Get publishers and industry people to come to YOU – no more cold calling them!
See specific examples that work for all different kinds of creative entrepreneurs.
Get dozens of templates, checklists, and quick start guides to get you moving.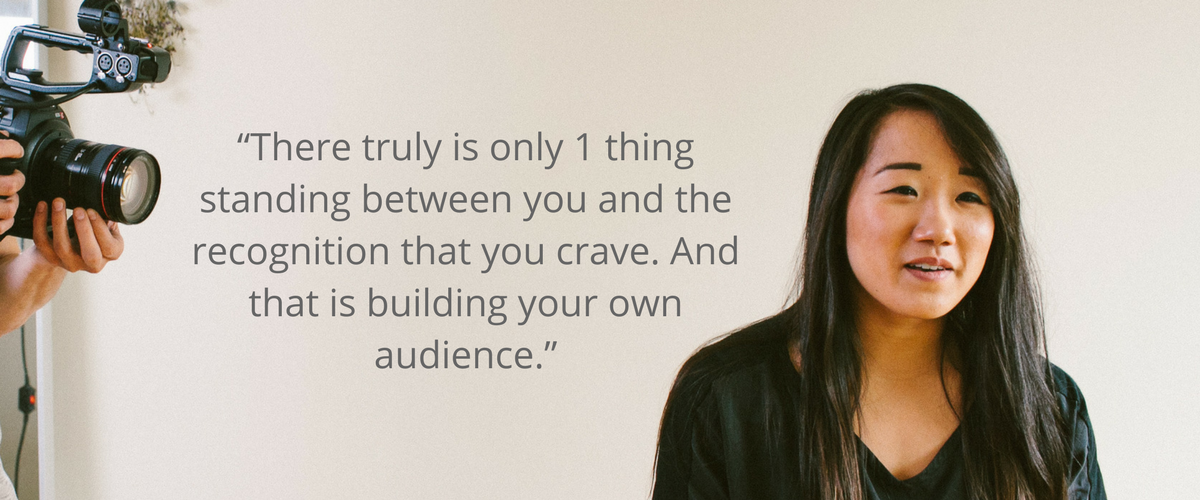 CreateBiz is for anyone who wants to build a business around their creative work:
Writers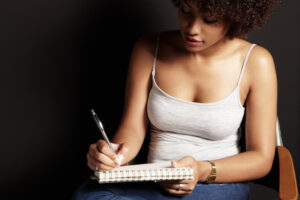 Including fiction and non-fiction writers, from bloggers to authors of all levels.
Musicians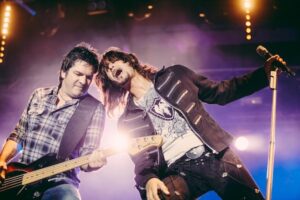 Including songwriters, performing artists, recording artists, and producers.
Visual Artists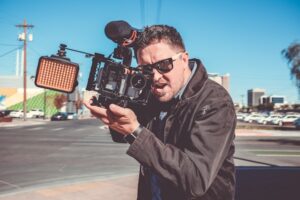 Including photographers, designers, painters, video producers, and filmmakers.
What people are saying about CreateBiz
If you are a writer, musician, or other artist and you don't have a digital presence... you should. CreateBiz will walk you through creating your online brand from A to Z. You'll learn how to connect with your customers, audience, or fans to make a difference. And possibly – a future thriving business!

Ginger Bisek, Professional Writer
I've seen SO many "start your own business" schemes over the years. CreateBiz is different. No glowing pie in the sky here – just a good recipe, by people who really understand the problems creatives face. Others often will give you ingredients but not process, or vice versa. CreateBiz is a true cookbook.

Robert Palomo, Folk Musician and Songwriter
CreateBiz puts the process into context in a direct and attainable manner so even a newbie can understand the elements and actions required to forge a future in the music biz online. It's obvious that Dave and Michael have a wealth of experience and it offers a very clear picture of what to do. Very happy to be part of the group!

Bobby Lee, Writer and Musician
CreateBiz is a comprehensive approach to marketing your creative work. I learned how to create an effective website, how to write my blog and grow my fan base, and how to effectively email my fans without a hard-sell. It's a great course to help creatives of all kinds discover marketing techniques that work.

Paul E. Lee, Visual Artist
Signup Now and Get Two Bonuses!
CreateBiz Community

Plug into a powerful community of creative entrepreneurs and expand your network. Make connections, collaborate, and find partners.
Custom Guidebooks to get you started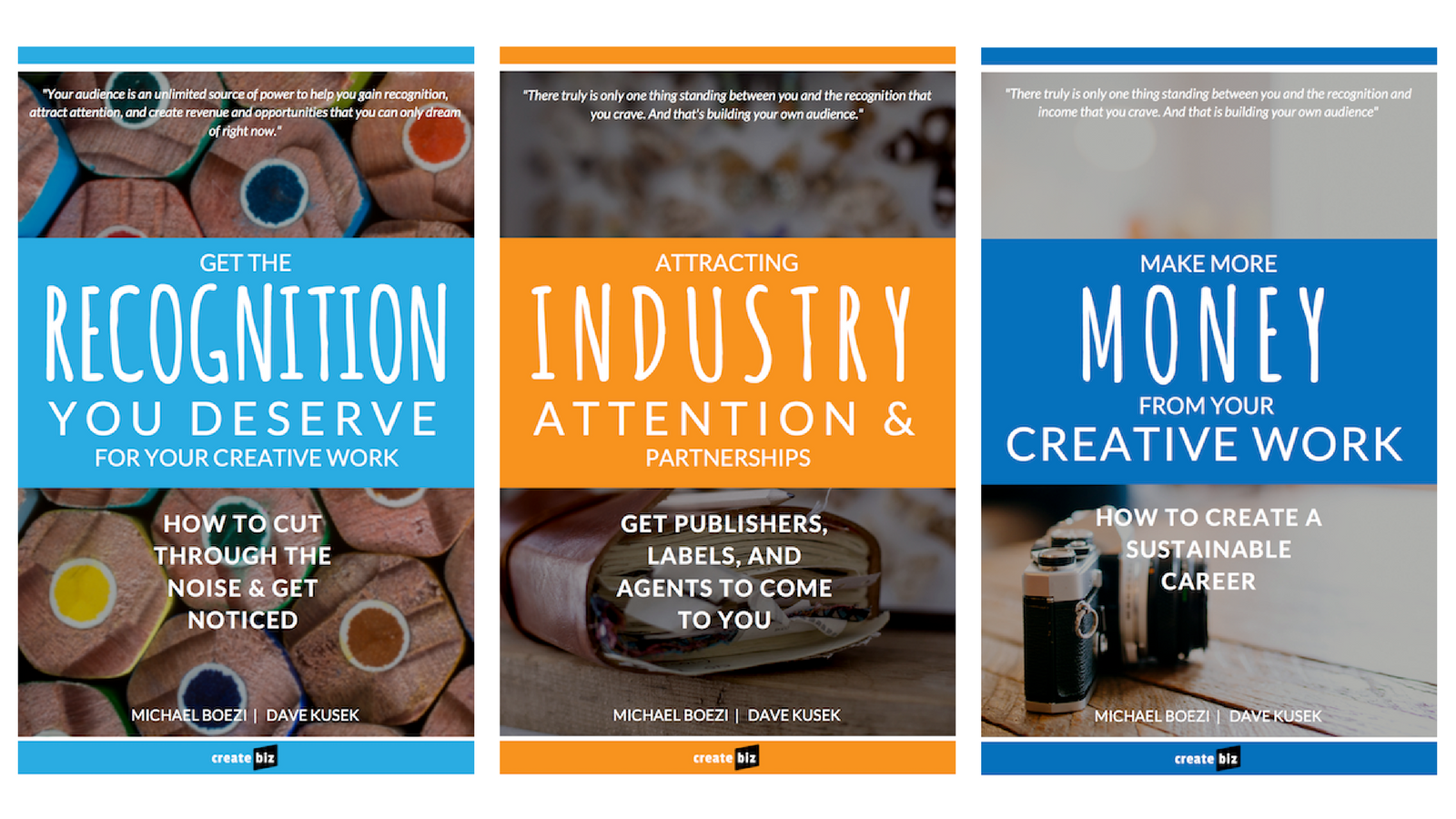 If you're struggling to get people to recognize you, it can feel like it's you against the world.
You want to make a positive impact with your writing, music or art, to be recognized as good artist, and to be acknowledged by your peers. You want success, and above all, you want connect with people on an emotional level.
But there are thousands of creatives out there competing for the spotlight and sometimes just getting anyone to pay attention to you can seem impossible.
If you've struggled with finding a big enough audience that loves and respects you... it pretty much boils down to one single reason – and that's what you're doing to get your message out there.
Instead of shouting louder to get over the noise, or buying ads – you want to use what you create to get in front of the right people – the people who will appreciate and support what you do.
It may seem counterintuitive, but you don't want everyone as a fan. Not at first, at least. That's because you really need the early adopters to feel connected to you – like they are a part of what you do. They should feel like they almost own what you do.
Remember that band you liked before anyone else? You felt special, right? Like you were in the know before any of your friends. You want to make people feel like that.
Here's why this is the case… You want your fans to create more fans for you. There's no other way to scale without it. When others are advocating for you on your behalf, creating new fans for you – that's when your creative business takes off.
The only thing standing between you the recognition and attention you desire is building your audience. What can set you apart from all the rest is your audience. Once you establish yourself in the marketplace and start to develop a following, you will find that your audience helps you attract the industry attention that you seek.
When you have an audience, you have the power. Everything starts to shift in your favor. Your audience is an unlimited source of power to help you build traction, attract attention, and create revenue and opportunities that you can only dream of right now.
But you need to have a system and method to build your audience. And it won't happen on its own...
That's why we developed CreateBiz.
Because we were sick and tired of seeing extremely talented people struggle and never getting to live the creative life that they had the potential for. They give up on their dreams and keep grinding away at their day jobs because they are focused on the wrong thing.
Develop a following of your own and before too long the recognition and attention you receive will provide the motivation to propel you to new heights. Just imagine what it will feel like when people are clamoring for your work or to get to talk with you…
You're here today because you care about your future. You want that future to involve doing what you love – not just working a job and fitting your passion in on the side. It's hard to strike a balance between work and your creative pursuits, and we get that.
Get a proven system for building an audience. Sign up now and get the course, the community and the custom guidebooks ($1100 value) for only $497.

Michael Boezi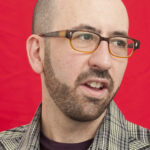 Michael has 17 years in the publishing industry, helping hundreds of writers become authors at Pearson and early-stage publishing startups. Boezi teaches at Emerson College and has helped hundreds of independent authors build an audience using content marketing.
Dave Kusek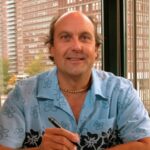 Dave is a best-selling author and founder of Berklee Online, the world's largest music school, and the New Artist Model training program. Kusek has worked with literally thousand of musicians, songwriters, and producers – helping them to live fulfilling and rewarding careers as creative entrepreneurs.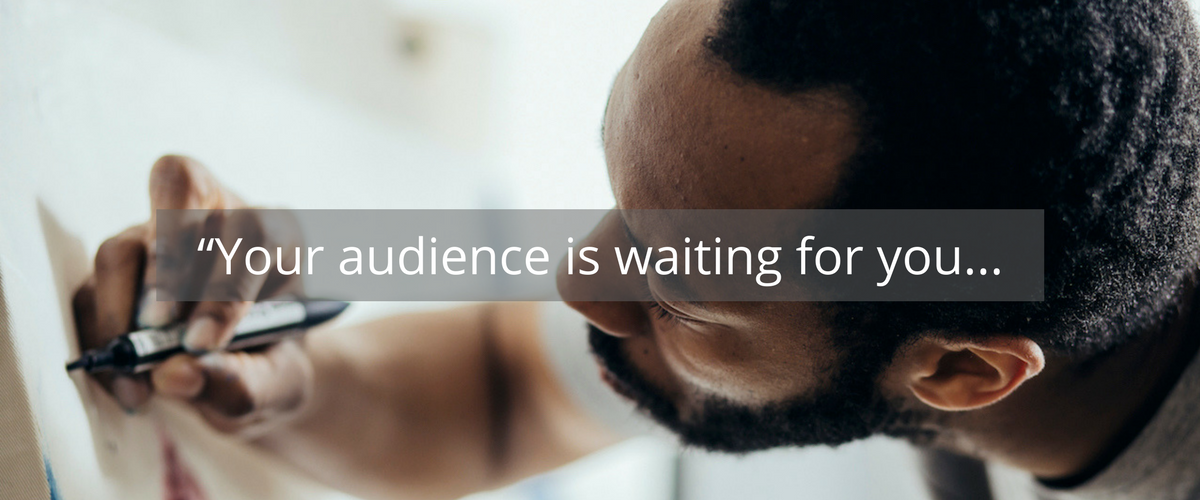 How does it work?

CreateBiz is a step-by-step system to help you leverage all the efforts you put into your creative work – to build a dedicated following and unlock big-time opportunities for yourself, faster.
Use this system to turn your art into a promotional engine that will help you build an audience, get industry attention, and ultimately, make a living from your creative work.
You already have a HUGE advantage over most people trying to build an audience, and that's because you are already making great stuff every single day, whether it's music, sketches, videos, animations, comics, photographs, crafts, sculpture.
CreateBiz is the system you have been looking for: A proven program that will help you get organized and take all that cool creative content you're already making every single day, and organize it into a world-class promotion engine - to build a following, attract attention and get more results faster.
That's what we teach in CreateBiz.
And THAT is how you get the attention and recognition you desire.
We've boiled down everything we've learned about promoting independent creative businesses into something people who may not have gone to business school can easily understand and get results from.
We will show you how to make marketing fun, using stuff you already have, in as short as 6 weeks.
Get Started Now
$1100
only $497

GET THESE BONUSES
Custom Guidebooks to Get Your Started ASAP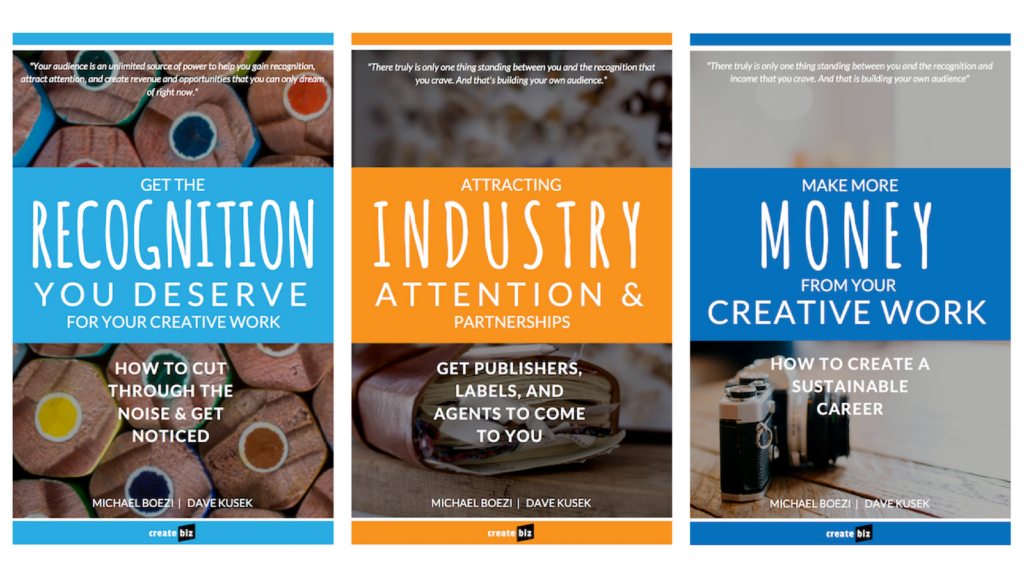 Exclusive Access to the CreateBiz Community

Plug into a powerful community of creative entrepreneurs. Make connections, trade ideas, collaborate and get feedback on your work.
30 DAY MONEY BACK GUARANTEE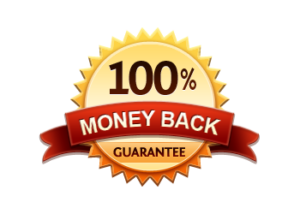 ---
Get the Career You Dream About
Most artists hate the idea of marketing. It can feel too pushy and just takes way too much time. Maybe you are struggling to to break through the noise to get recognition for your art. Or maybe you need help getting your audience to support you financially. But what if there was one common solution that would take care of all of this and get you the recognition you deserve? The key is your art – the awesome creative work you're already producing. CreateBiz is a step-by-step system that will show you how to harness that incredible content to grow your audience, make good money, and make a name for yourself in your creative industry. Think about everything you do to get your work attention and recognition – your social media channels, your online store, your tours around the country, or trips to conventions, showings, or festivals. What if you could get everything working together like a well-oiled machine and see real results without taking all your time away from you creative work? That's exactly what CreateBiz will help you do. At its core, this 6-unit online course is a content marketing crash course that will show you how to set up your social media channels, website, blog, and email and plug the creative work you're already producing right into the mix to build an audience and turn them into adoring fans. It's your turn. And your time is right now.
Ready to get going?
We look forward to working with you!
We will show you, step-by-step, how to promote your creative work and propel your career forward.
Make a positive impact and connect with people who will support you on an emotional level.
Your website, blog, social media, and email – all the tools that you need to run your business.
Learn how to leverage skills you already have to build your audience and turn them into fans.
Tap into a network of other creators to share ideas, trade opportunities, and get feedback on your work.
OK, let's get started!
Click the button to join CreateBiz Now!
Buy Now